LowerMyRx
Reliable Prescription Discounts
Our mission at LowerMyRx is simple, we strive to lower the cost of prescription drugs for everyone. We understand that healthcare can be expensive. That's why we're dedicated to providing a free tool that allows you to compare Discount Rx prices and find the most affordable options for your prescriptions. Our service is easy to use. Simply enter your medication and zip code, and we'll show you prescription discounts and deals available in your area.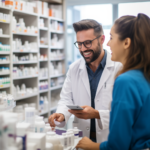 Using LowerMyRx is as easy as 1-2-3:
Enter Your Prescription: Enter the name of your prescription medication in the search bar.
Include Your Location: Add your zip code so we can find the best prices in your local area.
Compare Prices: We'll show you a list of pharmacies near you with discounted prices.
Choose Your Pharmacy: Choose the pharmacy that offers the best price or is most convenient for you.
Show Your LowerMyRx Card: When picking up your prescription, show your LowerMyRx card at the pharmacy counter.
With LowerMyRx, you have the power to take control of your healthcare costs. Start saving today!

Accepted Everywhere!
Our extensive network of participating pharmacies includes major chains such as:
CVS: As one of the largest pharmacy chains in the United States, CVS accepts LowerMyRx cards in all of its locations across the country.
Walgreens: Known for its expansive reach and convenience, Walgreens also accepts the LowerMyRx discount card at every location.
Walmart: Walmart's in-house pharmacies are a part of our network, making it easy for you to pick up your discounted prescriptions while shopping for your other needs.
Rite Aid: With numerous locations across the U.S., Rite Aid pharmacies are an accessible option for most people, and they accept the LowerMyRx card.
Kroger: The Kroger family of pharmacies, which includes stores like Ralphs and Dillons, also honor the LowerMyRx discount.
Many More: In addition to these major chains, thousands of independent pharmacies across the country accept LowerMyRx. This ensures that no matter where you live, you have access to affordable medications.