How to Save on Insulin Medications with LowerMyRx
If you're a patient who takes insulin, you know that the cost of medications can be expensive. Fortunately, there are ways to save. The LowerMyRx Prescription Discount Card provides discounts on insulin medications, and you can use the LowerMyRx Price Lookup Tool or mobile app to easily find the best price of your specific insulin at pharmacies near you. Let's look at how this works in more detail.

How the LowerMyRx Prescription Discount Card Works
The LowerMyRx Prescription Discount Card is a free card available to anyone who has a prescription for an insulin medication. When you present your card at participating pharmacies, they will apply any discounts that apply to your purchase. You can use the card as many times as necessary until your prescription runs out. The discounts provided by the card vary depending on which type of insulin medication you are purchasing and which pharmacy you are shopping at. Generic medications typically have the most savings when using this card, so it's wise to check for a generic version if one is available for your prescription.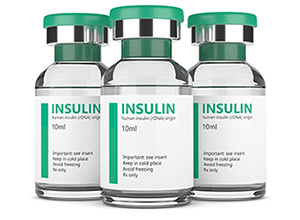 Compare Discount Prices for Your Insulin:
How to Use the Price Lookup Tool and Mobile App
In addition to providing discounts through their prescription discount card, LowerMyRx also offers two tools that make it easy for patients to find the best price for their prescriptions. The first is our online Price Lookup Tool, which allows users to quickly compare prices across different pharmacies in their area. Simply enter in your ZIP code or city name, select your medication type and dosage size to see an organized list of results showing which pharmacies offer the best prices for that particular medication.
LowerMyRx also has a mobile app that allows users to do all of this from their phone or tablet device. The app is designed with convenience in mind; users simply need to enter their location information and medication information and search for their desired discount (including insulins). Once entered, they will immediately receive a list of discounted prices from nearby pharmacies. It's quick, easy, and helps patients save money every time they fill a prescription!
The following are some of the many insulin variations that are discounted with the free LowerMyRx Prescription Discount Card. When you checkout at your participating pharmacy, the pharmacist will use the special codes on the LowerMyRx prescription discount card to provide you with a discount on your medication. Click here to search by name.
Humalog (Insulin Lispro)

HumaLOG KwikPen

Insulin Glargine-Yfgn (Semglee (yfgn))

Novolin R

Novolog Flexpen

Aspart FlexPen

Tresiba

Tresiba FlexTouch

Basaglar Kwikpen

Levemir

Levemir FlexTouch

Don't see your medication?

Click here to search by name

.
Saving money on insulin medications doesn't have to be complicated or time-consuming, thanks to the LowerMyRx's Prescription Discount Card.